The CCT- Visions of Hope Christian School (VOHCS) was founded in 2011 to provide education to children and youth from the poorest of the poor communities as one way of helping the country break the generational cycle of poverty.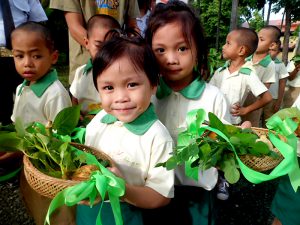 VOHCS opened community preschools in urban and rural poor communities that runs a specialized kindergarten curriculum called the Transformational Curriculum, which incorporates Bible stories in the daily lesson structure. It also extended its operations and reached out to far-flung indigenous communities, providing indigenous education to B'laan and Tagakaolo children in Malungon, Sarangani and Konoy and Tagbanua children in Quezon, Palawan. For our elementary school in Malungon, we integrated the indigenous framework of education with the School of Tomorrow Curriculum.
Aside from providing basic education in various marginalized communities, VOHCS also offers Alternative Learning System courses and Scholarships. The Alternative Learning System (ALS) is a ladderized, modular non-formal education program in the Philippines for dropouts in elementary and secondary schools, out-of-school youths and non-readers. Through ALS, children and youth in our home care and partner communities are able to transition to formal schooling or acquire certificates equivalent to a diploma in the formal school. For scholarships, we partner with like-minded individuals who help send our students from the Home Care to elementary, high school and college by sponsoring their school needs.
As we journey and dream
with each student, God has allowed us to intervene in their development and plant seeds of hope in their lives. Who would've thought that a child who used to live in the streets, knowing nothing about ABCs and arithmetic would receive recognition from the Math Teacher's Association of the Philippines (MTAP) or receive the Best in English Award? A child who grew up without discipline and exposed to the wicked ways of this world, would be honored as the Namumukod Tanging Mag-aaral (Exceptional Student), Magalang (Respectful), Batang Mapagkakatiwalaan (Most Trustworthy), Batang Mabait (Most Behave) or Batang Matapat (Most Honest) in their classes? A child who knew nothing about God and felt hopeless of her future, would give honor and glory to God in front of the school and receive the First Honor Award in their class! Truly, God is at work in transforming the lives of these children!