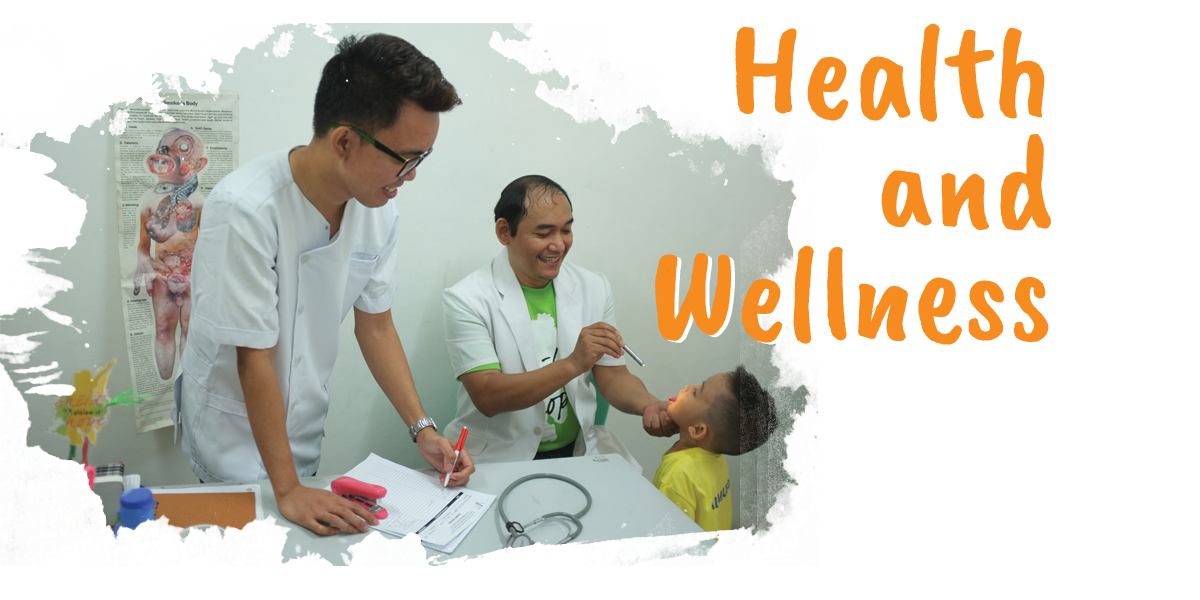 Visions of Hope seeks to provide children, their families and their community, health services that will allow them to experience the healing touch of Jesus, the Great Physician. Since health is one of the basic concerns of every individual, it is our wish to help them acquire a good health seeking behavior.
The Health & Wellness Program provides its services in 8 health clinics, 5 of which are in our CCT- VOHCS communities in General Santos, Cabanatuan, Payatas, Rodriguez and Parola, while 3 are in our Home Care in Malungon, Sarangani and Puypuy and Magdalena, Laguna. 
In the community, our clinic is manned by a registered nurse and a volunteer doctor who conducts Clinic Day once a week. The nurse assigned is responsible and responsive to the health needs of the VOHCS students: hygiene, nutrition and referrals for urgent and special cases. Aside from this, the nurse also conducts different activities in the community: community health education (including common illnesses), Missions (Medical, Dental and Optical Missions), PAP smear,  visitations (community, house and hospital), blood letting, family planning lectures and distribution of commodities, HIV and AIDS Awareness, medical assistance and referrals of patients with symptoms of pulmonary tuberculosis.
In our Home Care, the nurse assigned in the clinic is part of the Home Care team providing services for the children towards transformation. The nurse conducts several activities to ensure the children's good health: Clinic Day with our doctor once a week, physical exercise daily, nutrition class, health education (for children and staff), dental services and referral to hospital as needed. The nurse, together with the houseparents, is also responsible in ensuring that the children have good personal hygiene and  a clean community.
It is through all these activities where the Gospel is being preached because we believe that it is only by having a personal relationship with Jesus where healing, inside out, and transformation can be achieved.